Dol Utsav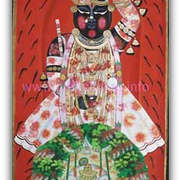 Dolotsav - Falgun vad 1
Dol Darshan will be from 12:00 PM to 3:00 PM.
Bhav Bhavna of Dolotsav by Shree Hariraiji Mahaprabhuji:
Dol: means the large swing made from creepers, flowers, leaves at different places i.e. Shree Girirajji, Shree Nandalay, Shree Yamuna Pulin etc , on which, Shree Thakurji and Shree Swaminiji swings together while other women friends (Gopis) sprinkles colored water, powders (Abir, Gulal etc) on the couple and amongst each other.
Dolotsav is a very secret divine sport of Shree Krishna. Shree Vrishbhanji (Father of Shree Radhikaji) and Shree Kirtiji (Mother of Shree Radhikaji) invites their son-in-law Shree Krishna at their place and offers different types of samagris. After that, entire family plays Hori by sprinkling colors like Abir, Gulal etc on each other. After that Shree Prabhu returns to Nanadalay. At Nandalay also, Shree Yasodaji and Shree Nanadraiji enjoys the Hori with Shree Krishna with Vatsalya Rasa. On the other side, Shree Prabhu also enjoys the Dol with Swaminijis at Nikunj with Madhurya Rasa (Shrungar Ras). The Dol takes place at Vrindavan, Shree Govardhan where three types of breeze is blowing i.e.
1. Manda (Gentle)
2. Sugandhit (Scented)
3. Sheetal (Cold)
The above type of breeze is also known as "Trividha Pavan" which is often noted in Pushtimargiya kirtan sahitya.
The Dol is constructed from various creepers, plants, perfumed flowers at Shree Vrindavan, Shree Girirajjji etc. With the bhav of Putra (Son) and Pati (Husband), Vrajbhkatas prays to Lord that Vrindavan, Govardhan, Yamuna,Gokul etc all the divine samagris are only for the happiness and enjoyment for Shree Krishna. In this way Shree Krishna acccepts these things in form of 'Dol' and swings in the heart of Bhaktas. To announce that Shree Prabhu always swings in bhaktas heart, Dol is created. Thus, through the Dol, Shree Prabhu accepts Trees, plants, flowers, creepers and makes them celestial, heavenly and supernatural. Thus one of the names of Shree Krishna is 'Bhakta Purakaay Namah" i.e. the one who satisfies the desires (divine) of Devotees (Bhaktas). Knowing these types of desires of bhaktas, Shree Krishna did the divine sports of Dol at four pleaces:
1. Dol at Shree Govardhan
2. Dol at Kunj
3. Dol at Shreemad Gokul
4. Dol at Yamuna Pulin (Banks of Shree Yamunaji)
The question may arise in the mind that why do they pray to Shree Thakurji since in pushtimarg, we never demand anything from Shree Thakurji since wellbeing and happiness of Shree Thakurji. The answer is below:
The creepers, flowers, trees, etc of Braj are all bhagawad Bhaktas (Devotees of Shree Krishna), who always are engaged in serving Shree Prabhu. They all wanted to serve Shree Krishna in one or other ways and thus they prayed to Lord.