Ganga Dashahara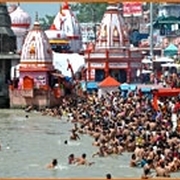 Naav na Manorath Darshan 7:15 PM to 8:00 PM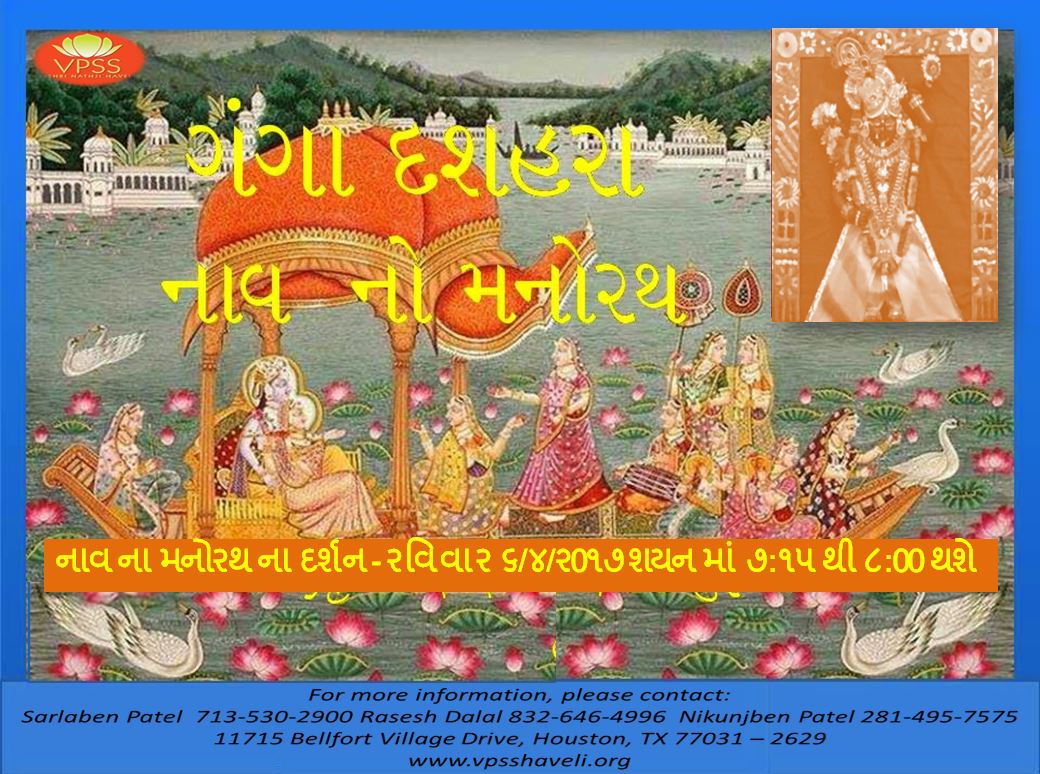 'Ganga Dassehra' also known as known as 'Ganga Dashami'.
According to Shree Yamunashtakam by Shree Mahaprabhuji, "Yayaa Charan Padhmajaa..", with the grace of Shree Yamunaji, Shree Gangaji also became 'Priya' of Murari Prabhu i.e. Shree Krishna.
The origin of gold, silver and other metals, i.e. Himalaya (adhidaivik form) had two daughters. Both were very beautiful and were taken care by their mother. First daughter was named ' Ganga' and the other as 'Parvati'. Shree Gangaji is known as 'Charan Padmaja' i.e. the one who appeared from the Lotus like feet of Shree Prabhu. Due to this, Shree Gangaji has a nature of removing the sins of 'Patitas' i.e. sinful ones. For the 'Uddhar' of his forefathers, King Bhagirath did lot of penance to get Gangaji on 'Bhutal' i.e. on earth. The demi gods (devtas) welcomed Shree Gangaji and then after, King Bhagirath. While on the way to 'bhutal', Shree Mahadevji held Shree Gangaji on apshri's 'Jataa' and then Shree Gangaji came on bhutal. Shree Gangagi is known as 'Bhagwati', 'Bhagirathi' too. As Shree Gangaji is known as 'Charan Padhmaja', today Sinhasan etc does not come and not even Kunjas. Wherever it comes, comes with the bhav of Shree Yamunaji.
According to the appearance story of Shree Gangaji, in Shreemad Bhagwat Mahapuran in Firth Skandh, seventeenth Adhyay, Shree gangaji came on Earth through Seeta, Bhadra, Alak Nanda etc Loks. Thus today Shree Gangaji came on bhutal.